Carpatian Rounds-2013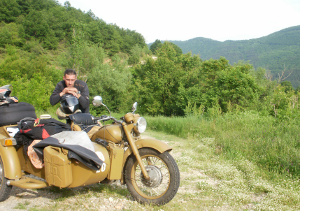 Zdravstvui Tovarisch!
Did you have dreams dancing with bears on Red Square with music of balalaika? May be to drink vodka with comrades from KGB? Well, one day they will come true. However this time we would like to offer you another magic adventure to places where East meets West. The country of noble knights and fierce kozaks. Do you like bike adventures? Are you tired of work and megapolice? Do you want to meet new friends, pick berries, fishing, and sing songs by fireplace?
Well then you are ready to join us in our journey on Dniepr sidecars across western Ukraine and the Carpathian mountains.
Please, have a look at our schedule:
Day 0

Meeting at the airport of Kiev. Our team meets all participants regardless of time of arrival at the airport and transport them to the hotel of Belaya Tserkov city, where motorbikes are located.
In this price is not included:
Meeting and departure arrangements with transportation from/to the airport.
Motorbike and helmet hire
Hotel, 2-3 persons in a 2-4 stars room.
Breakfast
Support of two professional mechanics
Two support cars
Bike insurance
Ambulance insurance
Short riding course of sidecar
Local mobile phone calls
Internet
Отдельно оплачивается:
Fuel and oil (about $300 for all journey)
Lunch and dinner (about $50 per day)
Hotel extra services (massage rooms, saunas etc)
Souvenirs
Your tickets to/from Ukraine
Documents required:
Passport
Valid visa
Travel Medical insurance
Valid international driving license for motorbike
Things to take:
Hiking boots and clothes
Items of Personal hygiene
Bike gloves
Torch
Camera
Farmacy
Positive attitude
Do you want to explore more Kiev? Terrific! We offer you our help to organize guided tours in the most beautiful city of the world. You will be delighted to see theatres, expositions, night clubs and architecture of the ancient European capital, the mother city of East slavic civilization.

F.A.Q.
Q. I want to came earlier and see Kiev before the bike trip. How can I meet the group?
A. You can come any day and we will help you to organize your tour and following meeting with the group.

Q. There is no flight to Kiev on the meeting day. What to do?
A. No worries. You can come Day 1 and we will meet you at the airport.

Q. I am 60 years old and want to take my grandson with me. Is it possible?
A. Yes if he is over 12 years old.

Q. Can we change the route?
A. Yes but slightly and with all group consensus. It can be done to avoid bad weather or visit interesting place.

Q. I have food restrictions. Can I have special meals?
A. Yes of course.